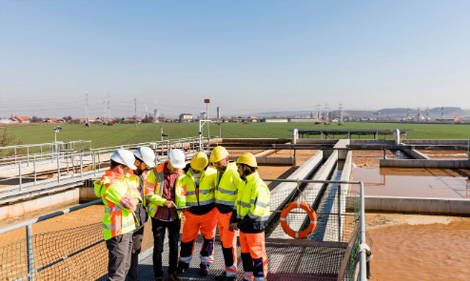 Water Utility Management Challenges
Management of water and wastewater utilities encompasses a wide array of issues. These include product quality, customer satisfaction, personnel development, adequate capacity, operation and maintenance, finances, and whatever issues may present themselves.
It is not a job for a single person. It is a team effort of all members of management and line employee staff. All have something to contribute. Front line employees are intimate with the issues and will provide needed knowledge the chief manager may miss.
The order of activities in this post should not be construed that each have a higher priority over the others. All issues will be constantly challenging management to action. Good planning and management will provide for smooth regular efforts rather than constantly reacting to unnecessary crises from day to day. Activities and details follow:
Front End Capacity
Capacity maintenance, development and expansion are critical for a growing community to have adequate volume for its needs. Whether from wells or surface sources, there simply must be more than an adequate supply to satisfy the thirst of the public. Front end capacity is the first step in maintaining and expanding a community's industrial base, providing jobs and all its side benefits. It is not enough to have enough. A growing community will require more water and wastewater capacity as it grows or accepts new industry. Managers keep close scrutiny on source water supplies.
When a community loses an opportunity for a substantial prospective employer due to inadequate capacity to deliver water and wastewater service, is not the time to react. Managers take a proactive stance to prevent this. Constant awareness of supply and treatment capacity are the Manager's key to success, providing capacity with an eye toward the future.
Infrastructure Maintenance
Managers have a huge responsibility for maintenance and development of infrastructure. Treatment equipment, storage facilities, pumps, hard asset structures, water distribution, and wastewater collection systems and treatment plants make up the chief components of infrastructure. From initial construction to repairs, maintenance, and expansion, all components are to be kept in good working order.
The necessary finances to operate and maintain utility assets cannot be ignored. Management will provide information to the governing body as to the funding requirements of the system. All members of governing bodies should be invited to these facilities and see firsthand the operation and its importance to the public. Informed people usually make wiser decisions.
Managers are aware of laws that require utilities to be supported by the rate payers, maintaining a separation from other resources (taxes). Government grants are available for certain improvements and are acceptable for the specific purpose the funds were provided. Often local politicians look upon the utility as a welfare program and are very sensitive to even necessary rate increases. If possible, these well-meaning individuals need to be convinced of the fact that utilities are businesses and should be treated as such.
End-Product Quality
As much as adequate facilities are addressed, the quality of the end-product is of highest priority. Drinking water is expected to be pleasing in appearance taste and smell. Water must be devoid of staining effects on laundry and plumbing surfaces. Industry will require a usable product that is suitable for operations.
Pollution regulators will require wastewater discharges to be in full accordance with the NPDES permit. It is prudent to operate wastewater plants to their most optimum performance. Even a compliant discharge may not look good to the eye. Discharge the wastewater end-product in the best quality possible.
Operation Staff
Managers are very aware that all of this comes down to a competent staff. Training, working environment, and adequate salary and benefits are the biggest concerns of staff. Training toward certification and direct plant operations should be stressed. Support all training activities and certification costs to encourage certification. Certification cost are expensive, and an employee left to finance these will be reticent or even refuse to obtain a certificate. The result is the loss of a valuable employee.
Working environment means more than a clean facility kept at comfortable temperatures. Equipment layout in an ergonomic fashion lends easy access and a better atmosphere for necessary adjustment and maintenance. Nothing is more corrosive to the work environment than bickering among staff. The manager must work to encourage teamwork among the staff with whatever tools and policies that work within the organization.
Adequate pay and benefits cannot be stressed enough. If you want to keep good staff, they must be fairly compensated.
Conclusion
This far from a complete list of challenges facing utility managers. Further reading can be found online at the EPA website. (https://www.epa.gov/sustainable-water-infrastructure/effective-water-utility-management-practices)