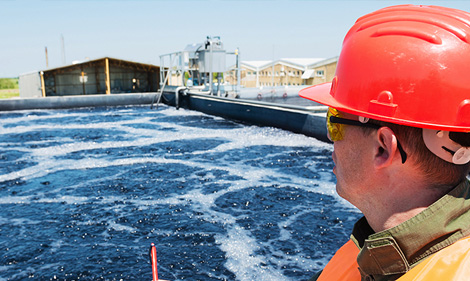 A wastewater treatment plant (WWTP) is a vital part of a communities' ability to protect public and environmental health. A WWTP operator's job is to make sure the plant process runs smoothly. Operators record daily readings, take water samples, and conduct plant inspections. Starting your career in wastewater includes attending an introductory level school along with passing a certification exam.
Wastewater treatment plants take the sewage or wastewater from a town or industry and biologically treat it to remove harmful chemicals, nutrients, and organisms. The remaining clean effluent water is discharged into a local water source. Many WWTPs today are technologically advanced and are equipped with computer control systems. Wastewater treatment plants must adhere to strict water quality compliance standards set by the Environmental Protection Agency (EPA) or state agencies. Wastewater treatment is very important but often overlooked. The public is unaware of what happens after they flush. Behind the scenes, there is a complex systems of machines, equipment, and highly skilled technical operations staff to ensure the biological treatment process is kept in balance.
A career in wastewater operations can be lucrative with salaries reaching six figures. Starting your career in wastewater includes attending a week-long introductory level school along with passing a certification exam. Most employers require a Grade 1 WWTP operator license or the ability to obtain one in a certain probationary time period. A Grade 1 license is the lowest level of licensing with Grade 4 being the highest. You may be able to work at a WWTP without a license in a trainee role, but normally a Grade 1 license is required. Some employers will pay for trainees to attend certification schools and take the certification exam.
So how do you obtain a WWTP operator license?
A Grade 1 license can be obtained with no field experience required. As a prerequisite to take the Grade 1 exam you must attend a certification training school. This school is offered through night classes by local community colleges. Another option is attending a week-long school held by organizations such as the American Water Works Association (AWWA) or National Rural Water Association (NRWA). Once you complete the classes, you are eligible to register and sit for a state certification exam. The state governing agency that handles wastewater treatment administers the exam. There are many free sources online to study wastewater treatment. Check out EPA.gov or search wastewater treatment on youtube. You can also purchase training manuals through Amazon that will aid in passing the exam. Once you pass the certification exam you will receive a Grade 1 operators license — congrats!
Wastewater treatment is a very stable career that fosters a sense of pride in safeguarding public health and the environment. Many wastewater treatment plant operators spend their career at only one plant, so there is very little turnover in the field. But, through a combination of technical schooling and professional licensing, you too can be on your way to a long lucrative career in WWTP operations. Check out your state environmental website for more information.