RI Water Distribution System Operation Overview - 4.5 Hours
This overview class on water distribution is designed to give water operators 4.5 hours of continuing education credits towards renewing their license.
The course begins with pipeline operations, which covers:
Types of Pipes - Understand the strengths and weaknesses of a variety of pipes.
Joining - Educate yourself on effective methods for joining pipe in order to avoid leaks and other costly mistakes.
From there, we move into a section on water distribution meters, valves, and hydrants, which includes:
Meters - Remember the American Water Works Association's guidelines on meters.
Valves - Understand how the various kinds of valves work and remember the many different kinds of valves.
Then, we dive into water distribution pumps and motors, including:
Types of Pumps and Motors - Educate yourself on the various types of pumps and motors, including velocity pumps and centrifugal pumps.
Maintenance - Learn how to keep pumps and motors in good working order and what measures you can take to prevent common malfunctions.
We move from there into a section on SCADA systems, which includes:
SCADA Systems - Learn about Supervisory Control and Data Acquisition Systems and how they can be utilized.
Electrical Safety - Remember some basic electrical safety guidelines.
Groundwater Wells - Learn some of the fundamentals of groundwater wells.
We finish off the course by looking at distribution system water quality issues:
Standards - Understand the NSF/ANSI 60& 61 Waterworks Standards
The EPA Disinfectants and Disinfection Byproducts Rule - Brush up on this EPA rule, and learn some of the maximum contaminant or disinfectant levels mandated by the rule.
All of these topics are designed for the water operator, to give them the best continuing education that they can do at their own pace!
Show Course ID: 0
Approved By:

Rhode Island Department of Health
Instructor Bio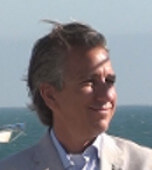 Tony Goff, holds a Bachelor's degree in Business Law and has over twenty years of experience in the water industry. Tony holds an upper management position with a large water district in Southern California. Tony is a Subject Matter Expert in the field of drinking water distribution and holds a treatment 5 certificate and a distribution 5 certificate.